Darin, Kendall & Staff- Thank you so much for your sponsorship of the FCA breakfast. It was heartwarming to see all the young people attending and all the community support. We are truly blessed by you and all you do in the community. Blessings and Thanks Jerry & Marylynne Fields

Patrick Sayler
I told the salesperson what I was looking for and by the end of the day he found exactly what I wanted. Very helpful staff, willing to go the extra mile.

Jim Hermans
They went out of their way to get the color and features we were looking for.

Phyllis Henze
I'm a senior citizen and have bought from Milbank Ford since in the 1960's. Service Dept has always been especially helpful.

Janis Baldwin
Relaxed sales experience. Paul literally went the extra mile to bring me the car I wanted from a SF dealer.

Burl & Kathleen Cook
Thank so much for friendly, efficient service. So glad you're here.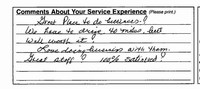 Duane Stahl
service compliment - Great place to do business. We have to drive 40 miles, but well worth it. Love doing business with them. Great Staff! 100% satisfied!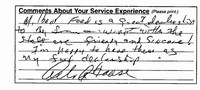 Arlo Haase
Milbank Ford is a great dealership to buy from and work with. The staff are friendly and sincere! I'm happy to have them as my ford dealership.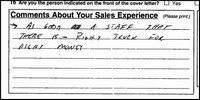 Roger Buttke
As good a staff that there is. Right Truck for Right Money.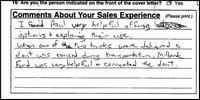 Whetstone Valley Electric
I found Paul very helpful offering options & explaining their use. When one of the two trucks were delivered, it had a dent on it from the transportation company. Milbank Ford was very helpful and corrected the dent.

Jerry Solem
Paul Sayler- I am writing to compliment you on the "Some Facts" article printed in The Valley Shopper. I don't have a Ford, but I know they are very good cars. It bugs the heck out of me to see these people driving foreign cars, and they brag about it. I think that they just want to make themselves feel good about the mistake they have made. In regard to the gas mileage, I get better gas mileage on my Buick , than my brother in Rochester gets with his Toyota Camry. The news media is as biased in regard to the foreign cars as they are with their political beliefs. Again Paul, I want to commend you on your article, and I wish you much success in selling Fords and Mercurys. When I am in Milbank sometime, I would like to stop in and shake your hand.

Nichole Bury
Everything went perfect- Sales people are superior & went above & beyond in helping us find our vehicle.

Leanne Hepner
Very good sales experience. Salesman took time to show me several cars and let me drive as many cars as I wanted and went over every detail of the cars I looked at. The salesman was VERY good and patient with me.

Patrick Sayler
They met with me outside of office hours to work with me. Very Satisfied.

Jeff Jurgens
Outstanding Dealership!

Orville Ellingson
I would recommend this dealership to others for sales and service. They are not pushy and let you make your own decision.

Mary Livermore
Paul Sayler was great - He knows cars "I love this car"

Charles Mageganz
I am happy that we have good, decent people for our Ford Dealership

Richard Fish
We were very satisfied with Milbank Ford. Happy with the truck also.

Chuck Myklegard
Friendly Service

Marilyn Barnhardt
The service manager and all the technicians treat you like a valued customer.

Debra Ness
We Love our new Edge!

Arlo Haase
Milbank Ford has an excellent staff, curteous, kind, understanding and fun to deal with.

Wallace Hamman
Milbank Ford always tries to satisfy the customer


Thank you for your donation to the benefit supper and silent auction for Sherry Spanton. Your generosity to Sherry and her family is very much appreciated.

Coach Dahl, Coach Frederiksen & GBB Team
Thanks Mr. Mertens and Milbank Ford for the use of the Diesel Excursion on our team camp to Bismark.

Florence Ekman
Darin and the Ford crew- I want to thank you for including me in the purchasing of our car. Usually the salesman makes me feel like extra baggage when buying a car, but you made me feel as if I counted too. Keep up that attitude & I know you will be successful.

Melissa & Tom
Milbank Ford- Thank you so much for letting me drive a car while Tom & I waited for our Fusion! It was very thoughtful of you! We love our Fusion! Thanks for all the hassle!

KDIO Radio Staff
Darin & Staff- Thank you so much for providing the beautiful F-150 for us to use during the Corn Fest parade. We appreciate your generosity. It was sure fun to drive that very upscale vehicle. Thank you again!!

Pastor Dennis Webber - Valley Baptist Church
Milbank Ford- Thank you so much for the use of the van to go on our mission trip to Winnipeg last week. We fit 7 people and all thier luggage and sleeping bags in very comfortably. The van was really a blessing so we could go up and help out New Life Ministries with painting, clean-up and children's ministry. Thank you again very much for all your generosity & assistance.

Staff of Community State Bank
Thank you so much for the usage of the brand new pick up. Our float was a big success, thanks to you. Once again a "Big Thank You"

Laura Wollschlager
Milbank Ford & Mercury- Thank you so much for the sponsorship for the Miss Teen South Dakota Pagaent! I appreciate your help in making this a possiblity.